Chuck Vosburgh & Pat Vosburgh
NextHome Gulf to Bay
735 Arlington Avenue N
Suite 309
Saint Petersburg, FL 33701
Chuck Vosburgh

Agent

in Saint Petersburg, FL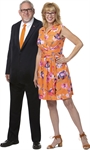 Professional Designations
ABR, AHWD, CIPS, GRI, MRP, PSA, REALTOR, RENE, SRS
Expertise Types
Condominiums, Relocation, Residential, Residential Investment, Second Homes, Single Family Homes, Townhomes, Waterfront
My life is a dream come true. My career that started in advertising, evolved to 30 years of success as a professional photographer, and in early 2015 I joined my wonderful wife, Pat, as the Vosburgh Real Estate Team with NextHome Gulf to Bay serving buyers and sellers throughout Tampa Bay.
As an Ad Designer and Commercial Photographer, I was privileged to travel all over the world. I have visited many beautiful places, yet I will always choose to make Tampa Bay my home. The quality of life here is great and it's one of the few places where you can live in paradise and also have places to work besides hospitality. This is a beautiful place with a lot of history and a bright future. I was born in St. Petersburg and I can honestly say there's nowhere I'd rather live.
Why Hire The Vosburghs
Pat and I have courted a long-term love affair with Real Estate including years of remodeling, restoring, and selling vintage properties. Pat has been helping buyers and sellers throughout Pinellas and surrounding counties since 2006. Together, we are personable, have an eye for aesthetic, and a mind for good business. We are excellent negotiators and project managers who make sure our client's transaction is a smooth as possible. Most of all, we love that moment when a client finds just the right home and we'd love to help you get there.
Pat Vosburgh

Agent

in Saint Petersburg, FL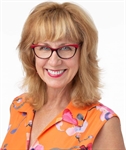 Professional Designations
AHWD, GRI, PSA, REALTOR, RENE
Expertise Types
Beach Properties, Certified Notary, Condominiums, New Homes, Residential, Residential Investment, Second Homes, Single Family Homes, Townhomes, Waterfront
The most important thing to me in life is assisting people. I love helping others achieve their end goal which makes Real Estate the perfect industry for me. I get to use my home restoration experience and my real estate background to help clients buy and sell homes – which is a pretty big end goal!

Real Estate has its challenges. Finding the right property, staging the house for sale, negotiating contract details – these can all be overwhelming to Buyers and Sellers. My client's benefit from having me on their side as someone who has integrity, professionalism, and will make sure the job gets done.

The best part? When a client works with me, they get a team! I work with Chuck Vosburgh, my husband and wonderful Real Estate Partner.